Souffle Nature…but why did we pick that name ?
Well, for us, our house is a place to breathe, to rest, to relax, to distress in the heart of a preserved environment.
We choose to build a very well insulated wood frame house, which is warm in winter and fresh in summer, thanks to a good orientation to take advantage of the light.
The paints on the walls are eco-labelled as the parquets. The bathroom linen is made of biological cotton; the bed linen is made of crumpled linen.
And when you open the large bay window, enjoy a good breath of fresh air in front of a rising sun.
And then, this nature is for you : not overlooked, a wild field where come sometimes a young roe deer looking for food. The sunrise makes you happy, you can stroll on the terrace, read, sleep or do nothing because this is also what is meant by slow attitude.
Our garden is also natural, without pesticides, it just takes a little elbow grease. So even if sometimes weeds grow a little here and there, never mind! The fertilizer is also biological, supplied by our first guests, our worms safely tucked away in their house!
But enough talking, we let you discover the 4 rooms on the theme of the 4 elements: water, ground, air and fire…
Nos chambres sont équipées de :
- Literie 160*200 ou 2*80*200 (chambre Eau – chambre Feu)
- Salle de douche avec toilettes, sèche-serviette, sèche-cheveux, distributeur de savon, kit sécurité
- Wifi
- Plateau de courtoisie (thé, café, bouilloire)
- Linge de lit et de toilette
- Bureau, penderie
- Terrasse privative avec mobilier de jardin
- TV dans les chambres Terre et Eau
Room EAU ...
Blue and beige. On the floor stretches wooden parquet like in a boat. The decoration plays with the light pulley and the funny fishing net....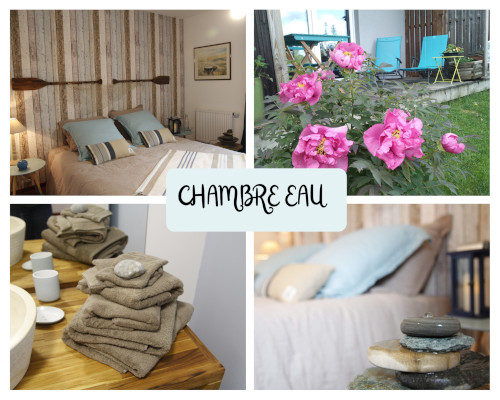 Room TERRE ...
And here is the forest. Your head is in the grass and you open your eyes in front of the trees. Deer, birdhouses, bamboo...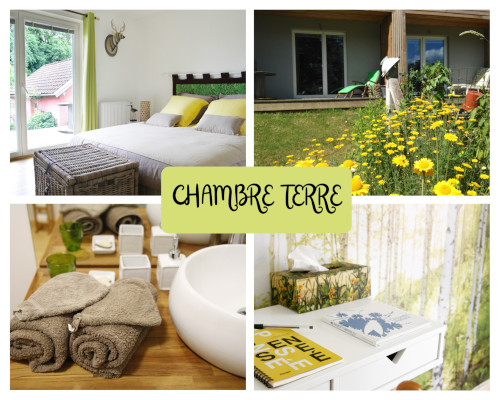 Room AIR ...
This room is an invitation to Zen attitude, black and silver coloured. Birds escape from a cage, the chandelier takes you into the clouds ...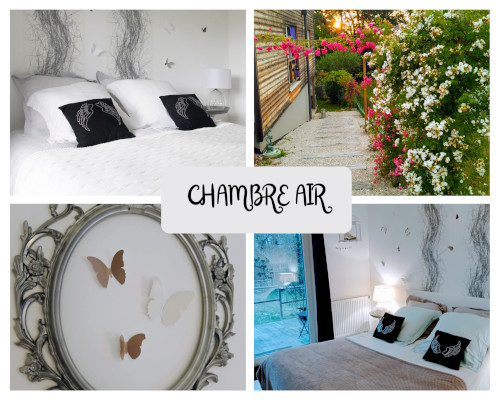 Room FEU ...
Sparkling and warm: metallic parquet, copper-coloured wall, orange-patterned drapes, rust-coloured decoration.